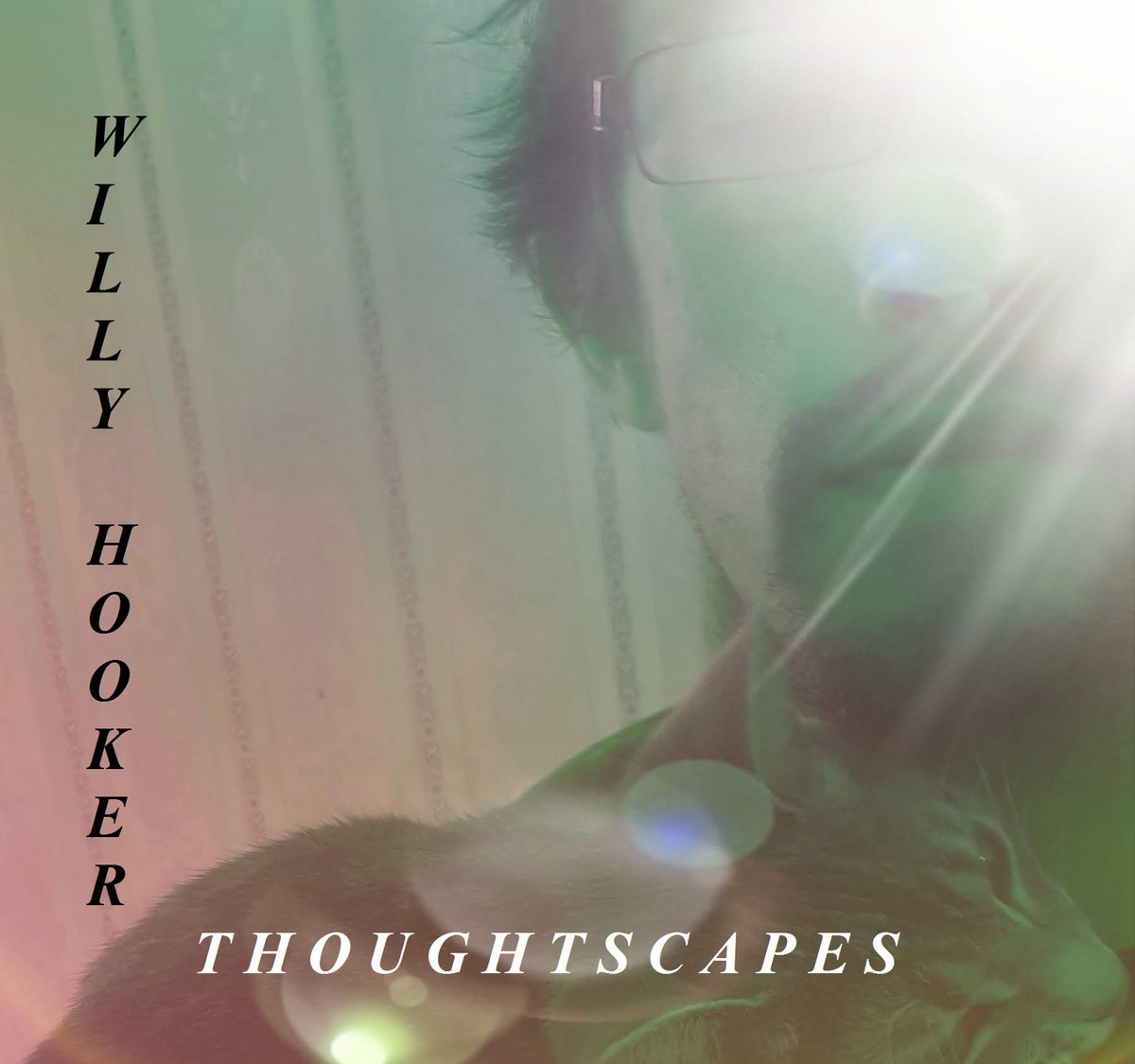 ---
Welcome to review #100!
I can't believe I am writing my 100th review already. It has been a little over a month since I started this page and I have been posting reviews like crazy (I had a whole year of catching up to do, it will slow down in the future (I promise)). I knew that I was going to review this album at some point and that I was approaching my 100th review, so I decided to make them coincide because I wanted to review something special for this milestone. So without further ado…
"tired". Probably the best album opener I have heard all year. It starts with the bass just riding along and everything starts to build up on top of it. Willy builds a beautiful soundscape full of lush and nostalgic noises. Once the song kicks in, Willy's vocals soar through and pull everything up along with it. The chorus is down-right brilliant as he sings "tired, tired, I don't wanna go to my bed but damn I'm always…" before starting again and changing the last part. It has such a great flow to it. A couple of times on this song, Willy sings what time it is before going into these detailed descriptions about who he is with, what he is doing, and how he feels about it. He really manages to tap into the sense of comfort when you are surrounded by friends and just enjoying life. This song somehow SOUNDS like what falling asleep would sound like if it actually had a sound.
"ORDINARY DAY". This is where the album starts to get a bit more noticeably proggy. While there are some dreamy, nostalgic sounds to be found here, I feel like the song is more based around its rhythmic tendencies than pure atmosphere. There are some great grooves throughout this song and interesting rhythmic idiosyncrasies for those who enjoy that kind of thing.
"SUPERHERO". "How to Write a Great Intro 101" is my alternate title for this song. I love when those string chugs come in and they flow into these hammer-on/pull-off notes before going back into the chug. I could listen to that intro over and over and it would never get boring ("Exaggeration 101"). Willy dreams that he is a superhero that needs to save the world and he has a run-in with a dastardly villain (whom he defeats (I think)). I love the lines " Was no sweat, I just bested the nextest mans in the test and/ Could not bet on anybody but the SUPER ME BEST YAH/ Taking cover, there's no beacon/ Grab me some SUPER REST YAH". The way he says YAH is so fucking sick and that last line is fire for whatever reason. SUPER REST YAH. That's gonna stay in my mind for awhile.
"AN EDIBLE PLACE". If I had to describe any single song on this album as a "banger", it would be this song. The chorus is just insane as Willy sings "Take me away to an edible place", a line that has been stuck in my head for like a month (and I even sing it out loud sometimes despite having a horrifying singing voice). Some self-reference going on here as he sings "croissanthemuffins" in reference to an older project of his. Later on he sings " And then it happened/ Fully consumed myself into myself… exploding/ And then… shat back into existence/ I had become food/ Not literally but nutritionally/ I'm a healthy choice/ So eat the sound up!!" which is very surreal and also a bit funny. I want to become food as well, but only nutritionally.
"REALIZATION". Probably my least favourite song on the album. I'm just not a big fan of the chorus which is repeated a few times throughout. But I like the verses and the instrumental noodlings towards the end are quite enjoyable. The ending is also top notch. I love that last little vocal bit where Willy is thinking about why dreams seem to come along and make him think certain ways about things and people that he already thinks his own things about. Great ending to an okay song.
"500 STOREYS OF VERTIGO". Willy raps over a groovy ass intro with great confidence and flow. I love the Mario reference that comes not too long after which continues to take on meaning over the next few lines (whether it was intentional or not, I'm not sure). Willy says "we playin' games in scary scenarios to the rooftop" which could very well be a Donkey Kong reference, and then he continues by saying "We started playin' tennis" which may refer to the Mario Tennis games that came about after Donkey Kong. It may be a far stretch but I just kept thinking of Mario Tennis. Anyways, later on Willy sings "CAN'T OPEN EYES TEARS WIND BURNS SKIN SEARS CATCH BREATH LOSE IT AGAIN SCREAM CHOKE CRY SCREAM TURN AROUND towers fleeting TURN AROUND ground is meeting FATE IS SEALED NOW WHY ME? PLEASE PLEASE!!" and I must say that I didn't really enjoy this section that much. However, Willy soon blows my mind when he sings " VERTIGO IS SENDING YOU INTO A SPINNING DAMNATION YOU'RE POSITIVE YOU'RE GUNNA DIE SO SIT BACK AND ENJOY THE RIDE. VERTIGO WILL TAKE YOU NOW AND PAINT YOU ON THE SOILED GROUND YOU'RE BETTER OFF TO SHUT YOUR MOUTH 'CAUSE WIND WILL ONLY FILL IT NOW". Terrifyingly described. Willy also makes this section sound like it is spinning, like how vertigo feels. Great job in that. The ending of the song is also downright terrifying. Willy is plummeting towards the ground and falling to his death. The screaming and chaos at the end of this track almost sounds like what would be going on in your head if time just slowed down by 1000 times right before impact.
"CATACOMBS OBSCURE". Picking up from where the last track ended, Willy states that he is now dead. Dead, dead, dead. Or is he? I think the mood of the instrumentals here perfectly capture those moments just after death. Or at least they perfectly capture how I imagine I would feel moments after death, if I could feel anything at all. Over the course of the song, Willy begins realizing he is not actually dead and that he needs to find a way out of this whole situation. Willy sings "I'm not dead, I'll find a way out, Where do I go now?" and adds in some truly beautiful "ooooh"s as the instruments build up and up in the background. When the instruments break free, so does Willy. Perfect. But something doesn't feel quite right when the instrumental suddenly changes tone, ending the free sounding guitar solo. Willy made it out alive… but he has found himself in another nightmare.
"DISTURBATION". Some more rapping over a pretty hip-hop sounding instrumental section. Willy's low register during the chorus sounds great as he sings "Disturbation, Disturbation is wreaking havoc on my dreams, Dark thoughts living, inhabiting my dreams". This is another line that has been stuck in my head for about a month. In my head every day pretty much: diiiiissturrrbaaTIIIIION.
"nature's swing". Okay, the song begins with Willy stating the time again and offering a description of where he is, who he is with, and how he feels. I love that this came up again because the melody that he sings when he sings these parts is fantastic and worthy of repeats. Willy drops some acid and is transported into a new place. Willy describes the feeling of the experience interspersed with the line "And I feeeeeeeeel" while the guitar parts underneath build a hypnagogic atmosphere that sounds liberating and soothing. "When I can understand that I am One with everything, One in nature's swing , One with everyone, One who's life's begun" sings Willy as he reaches a feeling of peace with everything and everyone around him but also realizing that the future is there for him to take. The "And I feeeeeeeeel" lines from earlier are replaced by "When I seeeeeeeee" which is a small but noticeable change, adding to the attention of detail within this track. Another small change comes when the chorus comes around again as Willy sings "The friendly faces thinking on my level walking past with shimmering glances and a giggle 'cause we're All in everything, All in nature's swing, All in everything, All in nature's swing". The chorus has evolved and so have the feelings that Willy has about this experience. He realizes that if he is one with everything, then we are all in everything. Everyone is in everything together. We are all one in nature's swing. Such a beautiful concept… nature's swing. I imagine a giant wooden patio swing and Willy and all of his friends are sitting on it just taking life in and accepting it for what it is. Legitimately one of the best songs I have heard all year. I am absolutely in love with the lyrics and the atmosphere.
"GHOSTLY PHOTONS". Within 10 seconds of the track starting, I am getting some Off Minor vibes. I know Willy hasn't really listened to Off Minor though. Must be some post-hardcore and screamo influence going on here or something. As the song progresses, the Off Minor sound mostly dissipates. Some more decent grooves with a nice little ending with the instrumentals.
"sleepless nights". Some more frigging Off Minor vibes. Listen to the song "Punch for Punch" by Off Minor. Go do it. And then come back and listen to this song. Y'all telling me this ain't some Off Minor vibe shit? Either way, this is a fantastic song. I am a huge fan of the way that the vocals are layered with Willy adding in some strained sounding higher-pitched vocals that work to great effect throughout the track. Some great instrumental sections where the instruments just sail on top of the established atmosphere.
"4(6)2(9)0". This guy has an obsession with marijuana and doing the 69, I swear to god. Anyways, the numbers in the title are used rhythmically in the song. It's also reflected in the lyrics: the 4 verse has 4 lines, the 6 verse has 6 lines, the 2 verse has 2 lines, the 9 verse has 9 lines. When Willy sings the numbers during the chorus, the number he is referring to at the time also happens to be the time signature during that time. The guitar solo on this track is probably my favourite solo on the entire album. It is perfectly placed in the song and perfectly played. At the end of the solo, the instrumental transition reminds me again of Off Minor. That's 3 tracks in a row, Willy, you con artist. Just kidding, the resemblance is a good one. Off Minor is an amazing band and this is only a resemblance, not a rip-off. Which means this is also amazing.
"LIGHTHOUSE". A keyboard groove starts things off here. When the other instruments come in, they perfectly balance the keyboard part. The transitions in this song are also amazing because all the parts flow into each other seamlessly. LIGHTHOUSE ends with some instrumental noodling. This is something that applies to the entire album but I guess I will mention it here as I listen to the song close out as I write this: the drumming is on point. The percussion is a real stand-out throughout the whole album, and while Willy plays every instrument on the album, I always think of him as a drummer. Likely because the music he listens to and is inspired by is a lot more rhythmically-based than what I listen to (prog for example). And so it stands out to me more than anything else.
"THOUGHTSCAPES". A lot of '70s prog influence in this one right from the slow start to the acoustic guitar sections to the lead guitar melodies. By far the longest track on the album and it uses it's run-time effectively. Nothing feels Rush(ed) (get it?). Willy summarizes the lyrical contents of the album on this song referencing a lot of the previous songs and moving the themes forward even more. The song goes through a huge change around the 5-minute mark. Once the next verse kicks in you have this siren-like sound in the background as Willy raps over a groovy bass-line. All of these weird sounds are coming in and out of the mix. My favourite part of the song starts around the 7-minute mark. "Whoa now, Feeling so exposed and low down, This dream keeps go go going, I can't control it's slow slow slowing, Whoa now, I gotta and save the world" are beautiful lyrics and they way they are sung and interact with the instrumentals is really great. Afterwards the song gets super proggy again, and then calms itself down. The ending chords are fantastic and Willy sings about leaving his dreams and how he is alright because he will be up soon. The ending sounds so nostalgic and warm and acts as a great way to finish the most monolithic song on the album.
"dawn". Again, Willy tells us what time it is before going into descriptions of the scene. Some of the background vocals and synth parts in the beginning of this song give me a Neutral Milk Hotel vibe. The guitar parts are great throughout this song playing along with the vocal melodies (or the other way around). The last verse reminisces of MF DOOM in the way that Willy raps some of the lines. "dawn" is not as good of an ending song as "tired" is an opening song, but it's certainly a good song taken on its own.
---
CONCLUSION:
Willy Hooker crafts a monolithic album about the theme of dreams, pondering what they do to us and how they affect us and the significance of what happens inside of them. There are several repeated themes and ideas throughout the album that work to make the album feel like a cohesive package and sound like a full experience. Intelligently written, emotionally captivating, and incredibly enjoyable. A fantastic listen for anyone who is open enough to listen to it.
---
Favourite tracks (in order of appearance on the album): tired, SUPERHERO, AN EDIBLE PLACE, CATACOMBS OBSCURE, nature's swing (strong contender for song of the year), GHOSTLY PHOTONS, sleepless nights, 4(6)2(9)0

Least favourite tracks (in order of appearance on the album):REALIZATION, 500 STOREYS OF VERTIGO
---
9/10 – Amazing